On 22nd June 2011, the media conference were held at *scape warehouse for the media, and the youth bloggers. Kitsunesuki were very honoured to be one of them attending this conference.
A video preview of the activities installed and performing guests were being shown shortly into the conference.
The tag-line of this year's festival is: "ENOUGH TALK, JUST DO"
The Chairman and Co-chairman of the steering committee were brought onto the stage to share with us about this year SHINE Youth Festival.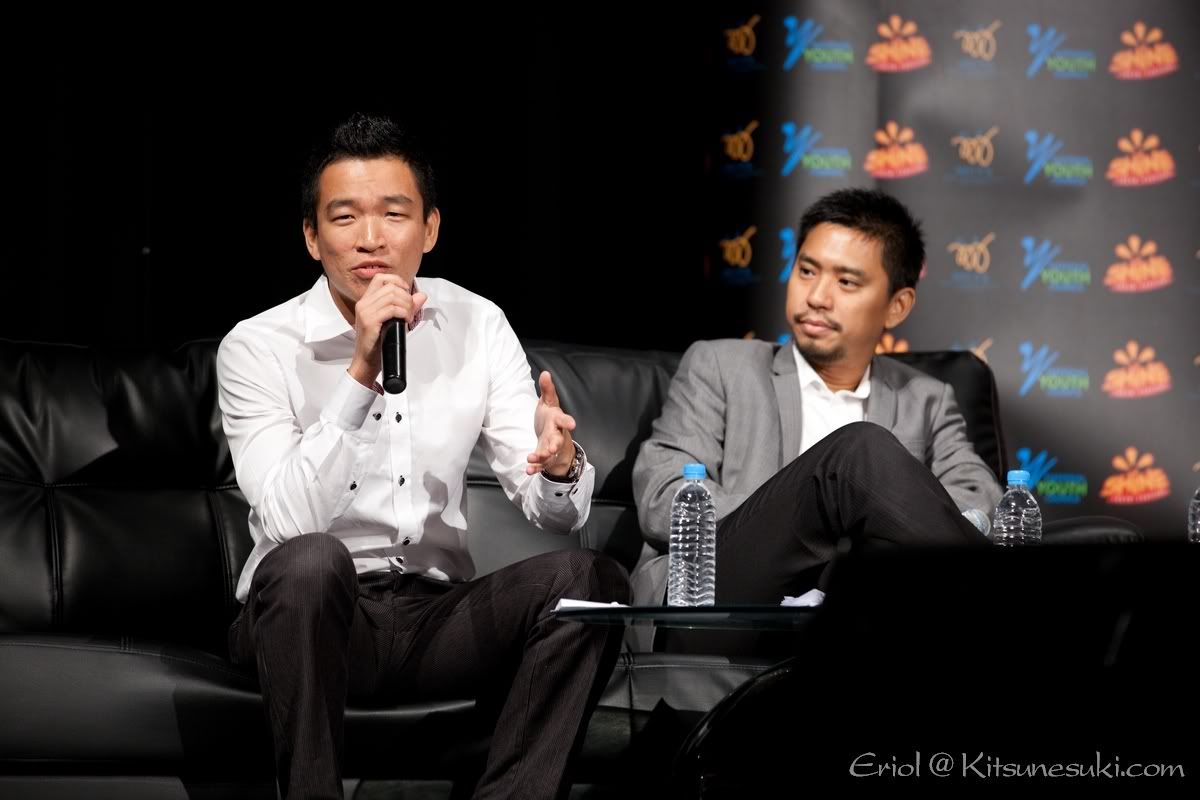 [Co-chairman - Mr Eric Chua(left), Chairman - Mr Martin Tan]
Eric started with the highlights of the opening of the festival.
One of them is the pillow fight, you didn't see wrongly. On 2nd July 2011, there will be a pillow fight activity happen at *Scape!
The festival this year will be a multi-level concept, he added: "SHINE will be anywhere, everywhere at *Scape."
Other then partying, there are workshops for DJing, photography for participants, fund-raising and more.
Eric : "What we wanted this year is to get the young people to be involve.", "What we do is to be provide with the mentoring, we open up doors that they can't.", "The month of July is the month of youth, is the month of Shine.".
Eric also added that the youths have provided them with great ideas and the Facebook game "Power to Shine"
The four pillars of SHINE is: Community Service, Sports, Environment and Youth Culture.
Martin: "We have always looking for a platform where everybody can work together"
Despite having busy schedules with their work, studies and personal time, the youth of the committee are still full of energy even as they work into midnight with the planning works.
The reason of having multi-leveled activities is the youth may be interested in different things in different time.
The preview of the performances started with Bryan, a member of JUZ B, doing Beatbox.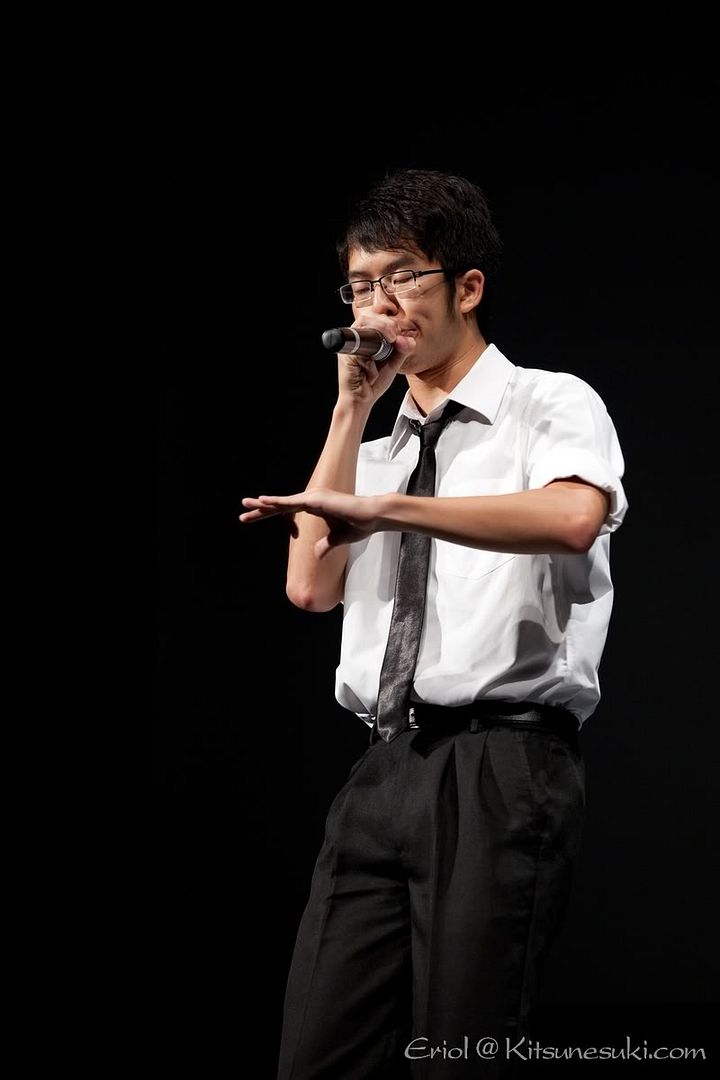 followed by JUZ B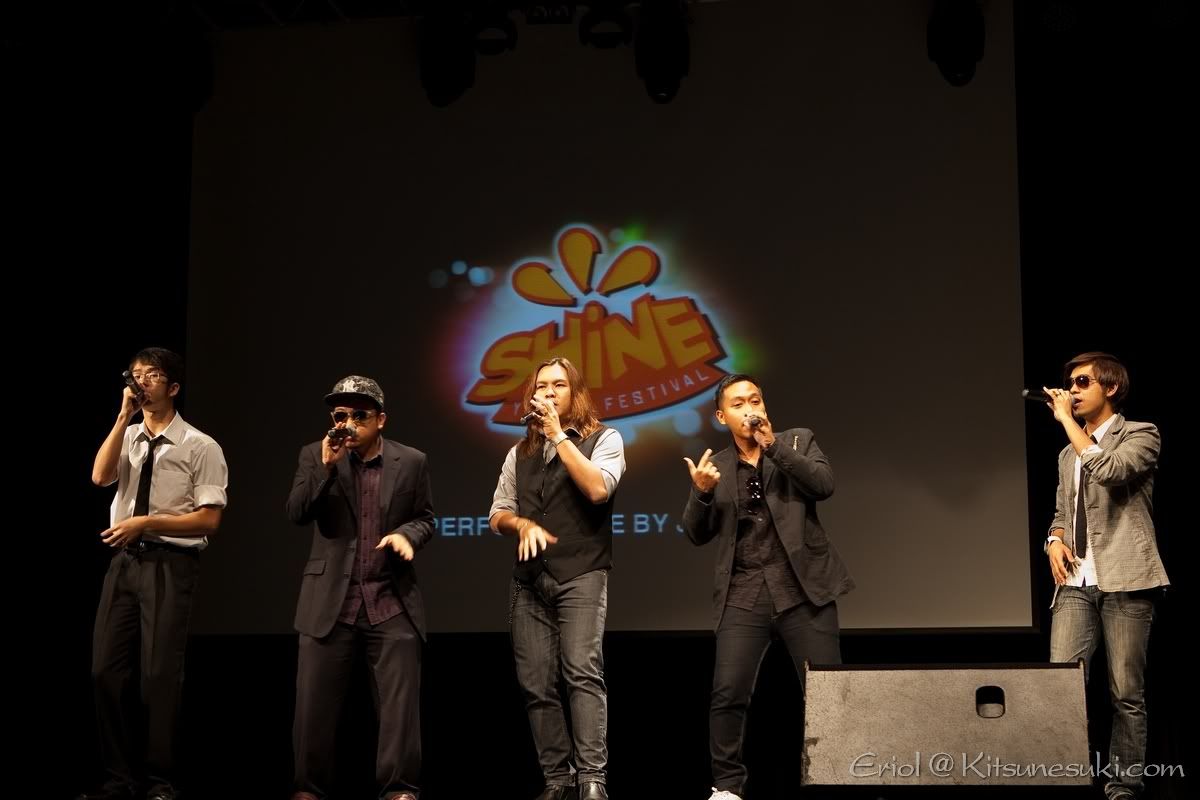 The trailer for THE BIG GROVE are shown to us.

There will be workshops and dialogue session for hip hop dance.
Singapore Street Festival has come to celebrate its 10 year anniversary with their opening under SHINE Youth Festival at *Scape. There will be performances and workshops at *scape. To celebrate its 10th Anniversary, they will be coming up with a concert and launch the album featuring the bands and the hip hop at the concert itself happening on the 24th July 2011, 7pm at Vivocity Amphitheatre.
the Roses are brought onto the stage to give media a preview of the performance.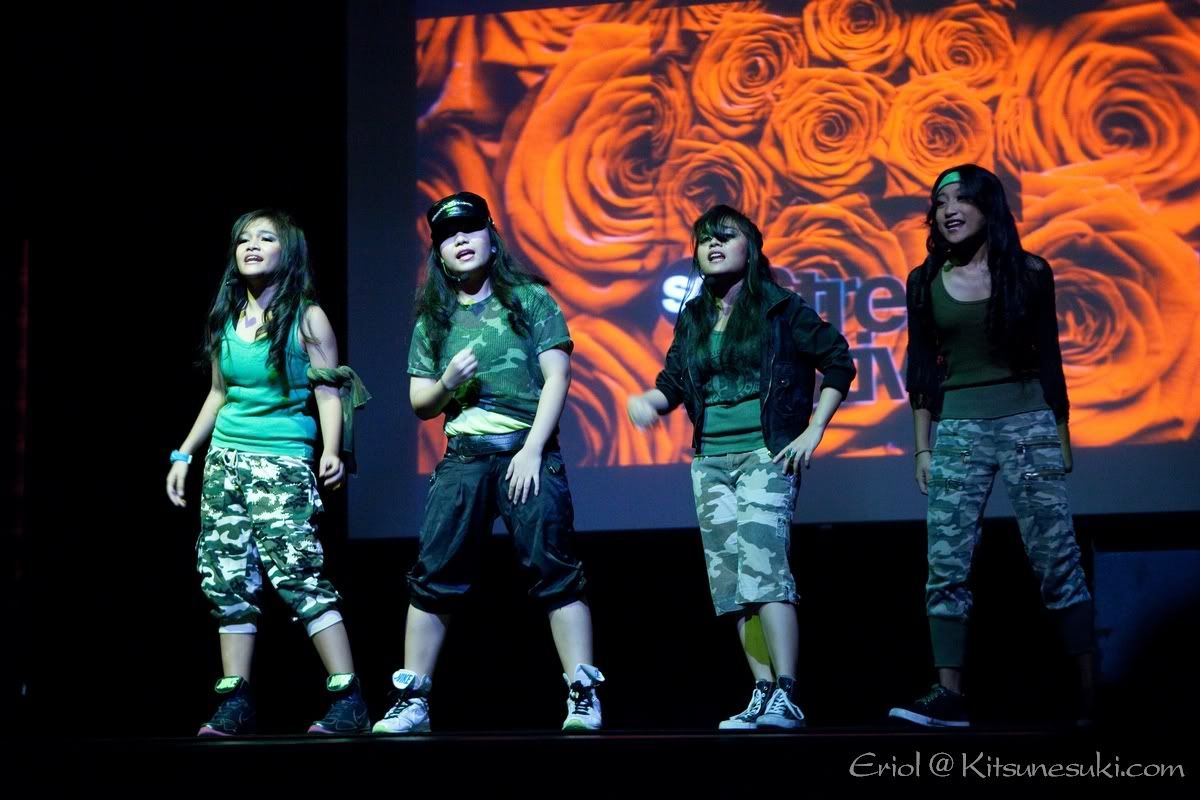 COSMO Youth Parade as known as Mascot Parade will be back this year under the umbrella of SHINE Youth Festival with the theme : "COSPLAY I LUV". The parade will start at Orchard Central and end point will be at *Scape. Fear not if you do not have a costume of your own, there will be costumes for rental.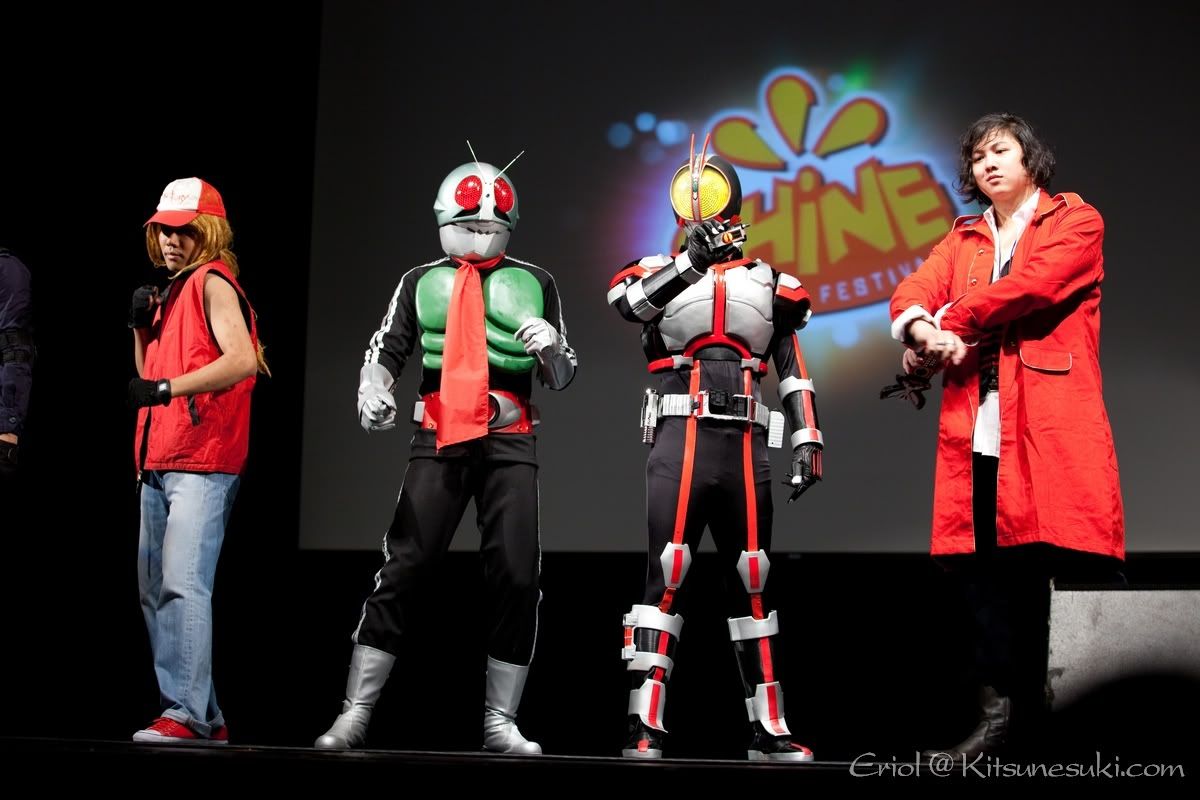 Some cosplayers invited to give media a sneak peek.
SMU students under the Inspirar project also gave media a demonstration of the seat exercise that they design for all ages to do at their own comfort. This event will be held at Kampong Glam Community Centre on 30th July 2011, 9am – 12noon.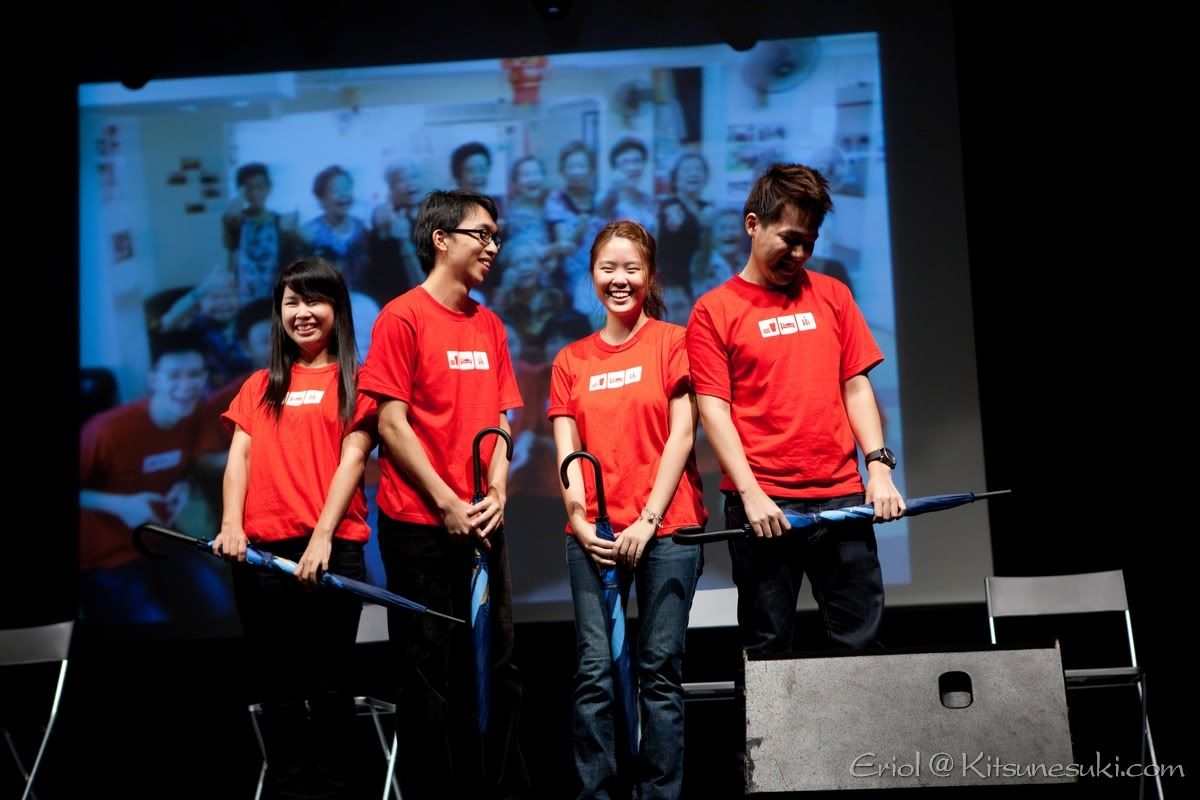 to end of the Media conference, the comedian magician Kiki Tay was invited to perform for us.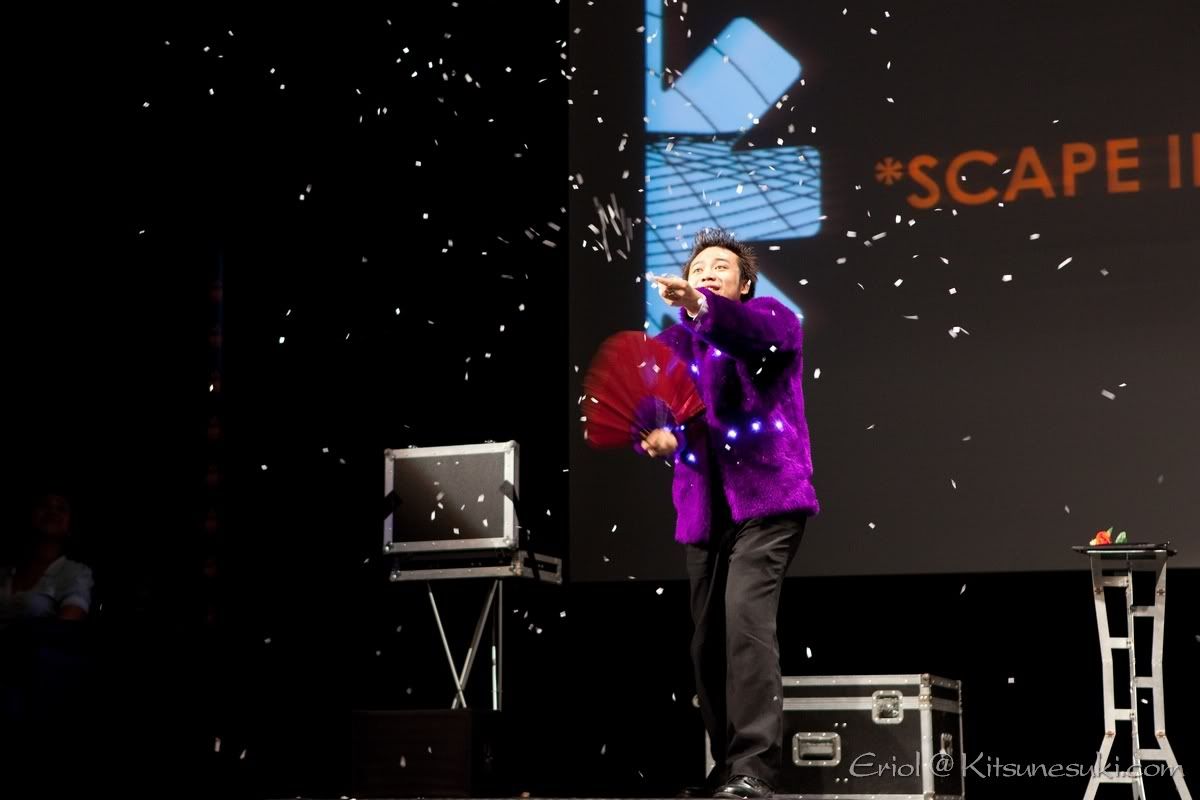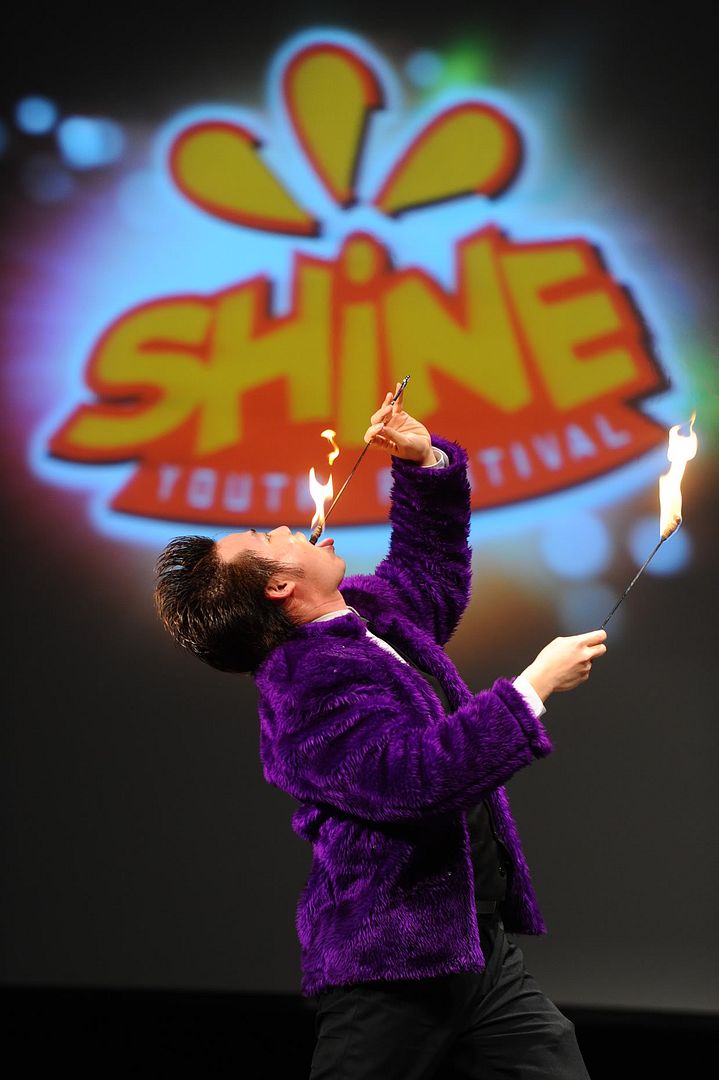 ———————————————–
For the opening of SHINE Youth Festival the featured artistes lineup are :
Derrick Hoh
Ever since attaining 2nd Runner-up in Project Superstar, Derrick has won several local and overseas awards and accolades. His album sales reached Gold status in Singapore and his debut album hit No. 6 on Taiwan Best-selling Album Charts. Recently awarded Most Popular Singapore Artiste, Derrick also performed in various renowned events such as the various Torch Relay Venues of the 2010 International Youth Olympics Games.
DJ Koflow
Wayne Liu aka DJ KoFlow has been spinning music in numerous festivals such as the Youth Olympic Games, MTV Pattaya music festival, Floorskillz, Battle of the year, Beatnik, F1 Racing post parties, Siloso Beach Party, Chingay and The Asian Hip Hop Festival in Bangkok. Truly DJ extraordinaire!
Jack and Rai
Jack and Rai need little introduction as they have been performing regularly as an acoustic/pop-rock duo at popular clubs and nightspots since 2002. Their radio-friendly covers attract a large and loyal following. In 2006, they released their debut album of original songs.
Tay Kewei
Kewei started her career backing up and touring with some of the region's biggest pop stars: David Tao, Wang Leehom, Amei and JJ Lin. Mandarin pop aside, she is also active in the English pop-jazz scene. In 2010, she launched her debut album, 'Come Closer With…Kewei" with renowned record label S2S.
Bloco Singapura
Bloco Singapura is Singapore's most spanking musical collective where their swinging samba and throbbing batucada beat has entertained many at numerous events including Zoukout '08, Chingay '09, Worldwide Festival '09 and the National Day Parade '09.
Juz B
This all-Malay acapella group caught everyone's attention when they sang Mandarin songs throughout their tenure in Channel U's Superband Competition. Known for their soulful performances and on-stage antics, the award-winning group is also a much sought-after act at local and overseas events.
Event Highlights of the opening as follows,
Pillow Fight
Just come and have fun and engage yourself in our massive pillow fun!
Percussion Workshop
Get into the groove as our street percussionists bring enjoyment of music to a whole new level!
Magic Workshop
Spot our magicians roaming around and surprising you with their fascinating magic tricks!
Photography Workshop
Get tips from professional photographers on how to achieve beautiful pictures!
Flea Market
Join us and grab all the cheap bargains before they are gone!
Once Upon a Mikshake Food Eating Competition
Challenge yourself and finish up the desserts as fast as you can!
Cosmo Youth Parade
Be there to witness the magnificent sight of 1,000 cosplayers parading down the street of Orchard!
Beatboxing Workshop
Challenge yourself to manipulate your vocal organs and project the beats and rhythm of a drum machine.
DJ Turntablism Workshop
Learn how to cut, scratch and spin from DJ Koflow, voted as the "Best Turntablist 2010".
——————-
SHINE Youth Festival 2011: BIGGER AND BOLDER
Annual SHINE Youth Festival set to encourage 250,000 youths to "Just do"
SHINE will be back in a spectacular way come 2nd July, with a launch event featuring Singapore's first-ever multi-decked concept party in the heart of town at *SCAPE. Organised by the National Youth Council (NYC) as an annual youth for youth festival to celebrate and showcase youth talent, SHINE 2011 continues to be a platform for youths to indulge in their passion, demonstrate their energy and grow their skills and talents. The launch of SHINE 2011 does just that, featuring a wide array of top-notch offerings such as a mega mascot parade, quality dance master-classes by American choreographers and community service projects, finally culminating in a night concert featuring local and regional acts.
Bigger Party and Festival Line up
2 SHINE 2011 will be launched amidst a transformed *SCAPE, which will see four levels dedicated to 13 activities, spread throughout the building. The party radiates outwards, with a 1,000-strong mascot parade spanning *SCAPE and Orchard Road (Orchard Central), a launch concert at the Playspace @ *SCAPE, the Singapore Street Festival's 10th Anniversary festivities and an Official Chill-out Corner by KIT KAT® for that much needed break during the mega party.
3 Youths will be treated to a star-studded show filled with successful local acts that could inspire them to follow their passions and take action as singing sensations Derrick Hoh, Tay Kewei, JuzB and Jack and Rai take the stage at the night concert. O School, a renowned hip-hop dance school, will also provide an exclusive peek into the groovy moves at Asia's most awaited hip-hop convention -The Big Groove 2011.
4 Showing its commitment to continuously expand the platforms and opportunities available to youths at SHINE, SHINE's line-up this year includes those by its fifth, and newest, marquee partner, *SCAPE. "*SCAPE is happy to be the newest addition to the list of marquee partners for this year's SHINE Festival. As a home-base to diverse youth communities of interest, *SCAPE is excited to present events that can echo the Festival's objectives of community involvement and showcase opportunities. Two key events presented by *SCAPE include the inaugural Street *SCAPE project, which invites all youth to come forth and show the part of themselves which represents their personality and life role; and the Art Park, which is a part of *SCAPE's efforts to expose young people to various forms of art," said Ms Lynette Lee, Managing Director of *SCAPE Co. Ltd.
Bolder Approach and Projects
5 SHINE is also about youth development. Mr Eric Chua, Co-Chairperson of SHINE 2011 Organising Committee, shares, "The Organising Committee has always been formed by youth leaders and representatives. This year, we were guided by highly experienced Steering Committee members hailing from youth sector organisations like the YMCA, People's Association Youth Movement and the National Youth Achievement Award Council," The mentorship model adopted by the Steering Committee allowed the youths access to their mentors' network of resources and contacts, and helped them better exercise their ideas. The outcome? A bolder launch event concept, a wider array of activities and events throughout the month-long festival and, for the first time, the presentation of SHINE on a new platform. (Please refer to Annex A for a list of SHINE 2011 Steering and Organising Committee Members).
6 SHINE will be presented on a specially-designed Facebook game - power2shine. "July is the month for youths—the month for SHINE. SHINE is about encouraging youths to adopt the "Enough Talk Just do" attitude. The online platform is the preferred platform to act on amongst youths, therefore we pursued their idea of bringing SHINE to Facebook without hesitation," said Mr Martin Tan, Chairman of SHINE 2011 Steering Committee. In power2shine, gamers have to overcome obstacles, challenges and zombies (or Tokkies) to gain the power to SHINE.
7 SHINE has also enabled youths to showcase their passion for the community. This year, students from the Singapore Management University (SMU) will take their community projects further by attempting to achieve two firsts during the Festival. In project Inspirar, SMU students will introduce the elderly to a self-defence routine-cum-workout session specially-designed for the elderly that matches their physicality and lifestyle. Another group will be setting a new Singapore record for "Most Number of Cars Washed in 6 hours" to raise funds for My Buona Vista Place. (For more information on projects and activities by SHINE's Marquee Partners, refer to Annex B.)
8 SHINE Youth volunteers have also upped the ante, taking it upon themselves to brainstorm ideas to raise the profile of SHINE throughout the month. They have clearly demonstrated their energy and passion, picking up a performing art just to do this. Every weekend during the festival, the advocates will put up living-statue performances along Orchard Road.
9 This is SHINE's 7th year, and it is targeting to encourage over 250,000 youths to adopt the "Enough Talk, Just Do" attitude through a host of youth events and activities, organised for youth by youth, throughout its run from 2 to 30 July 2011. For more information on SHINE, visit www.shine.nyc.sg.